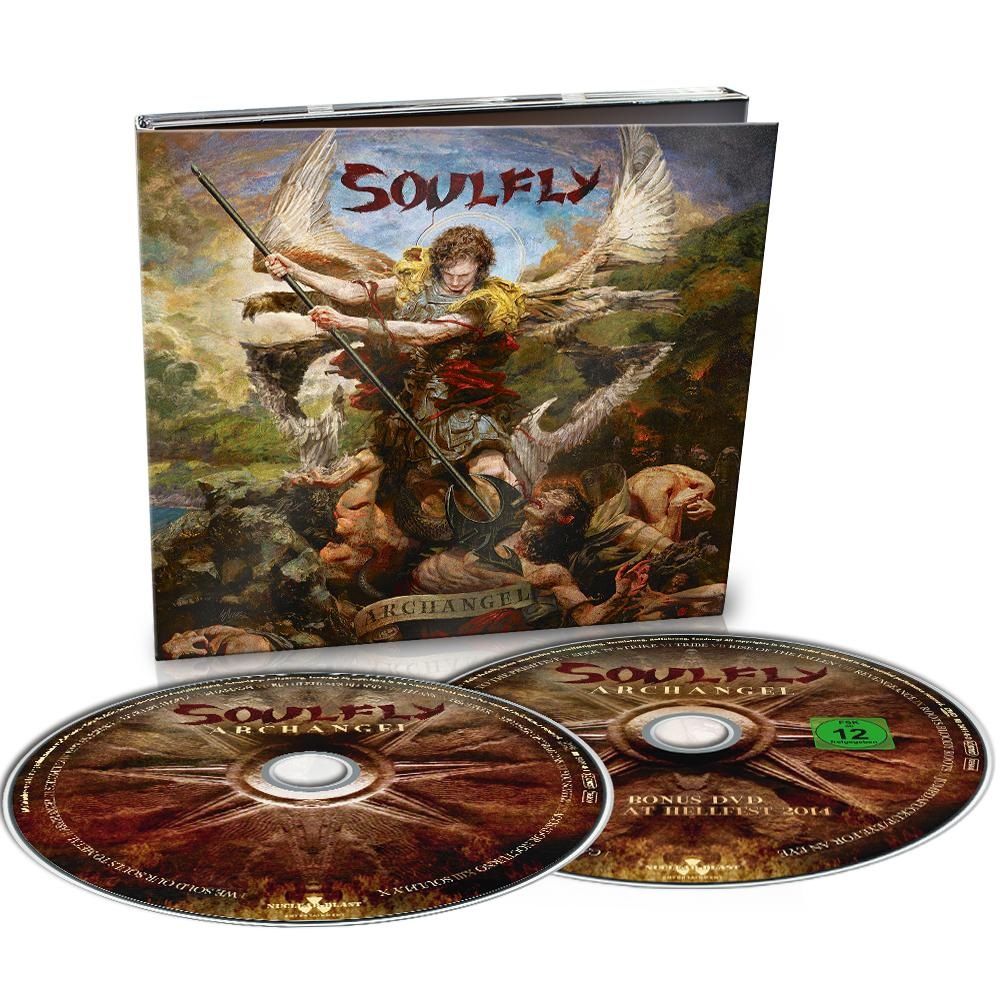 Artist:

Soulfly
Archangel: CD + DVD
A trailblazing pioneer and musician with millions of albums sold who nevertheless retains boundless street cred due to his grimy, raw and undeniable authenticity, Max Cavalera is one of the most prolific artists the realm of heavy music has ever known. There's Cavalera Conspiracy, which reunited Max with his brother and former bandmate, Igor Cavalera and most recently Max lit a fire with the awesome Killer Be Killed, featuring members of Mastodon, Dillinger Escape Plan and Mars Volta. Of course, there's Max's unassailable work as Sepultura's founder, leading the Brazilian band from their lo-fi beginnings, through their era of sophisticated thrash classics up through the cultural landmark that is 'Roots'.
Max Cavalera is the walking embodiment of creative energy; of all of the diverse layers of urgency that are possible from that select few whose artistic output defines genres - mystic shaman, protest singer, revolutionary hero, everyday metalhead, furious consumer of heavy music of all shades, husband, father, leader, songwriter. Cavalera reigns as the adoptive tribal chief of a generation of fans stretching from the roughest slums of South America to the coldest confines of Russia. Anywhere that people are disenfranchised, the songs of Soulfly serve as their anthems.
Armed with Cavalera's four-stringed guitars, unmistakable growl and instantly recognizable riffage, the muddy tones and constant rhythmic bounce of Soulfly has retained its gritty edge while pushing the boundaries of what's possible in metal. 2013's 'Savages' album represented a career-defining moment, with a line up that included longtime lead guitarist Marc Rizzo (who has been in Soulfly almost as long as Max was in Sepultura) and Max's brother Zyon, who splits his time between drumming in Lody Kong and now Soulfly.
Evoking the dark atmosphere of 2005's 'Dark Ages' release, 'Archangel' (the band's 10th album) is arguably the band's most intense album to date. Opening with the anthemic punk-metal blast of 'We Sold Our Souls To Metal' via the grand Behemoth-inspired title track and the frantic groove of 'Ishtar Rising', 'Archangel' rages from start to finish.
Tracklisting
Archangel
1. We Sold Our Souls To Metal
2. Archangel
3. Sodomites (ft Todd Jones of Nails)
4. Ishtar Rising
5. Live Life Hard! (ft Matt Young of King Parrot)
6. Shamash
7. Bethlehem's Blood
8. Titans
9. Deceiver
10. Mother Of Dragons
11. You Suffer (Bonus Track)
12. Acosador Nocturno (Bonus Track)
13. Soulfly X (Bonus Track)
'Live At Hellfest 2014' DVD
1. Cannibal Holocaust (Live)
2. Refuse/Resist (Live)
3. Bloodshed (Live)
4. Back To The Primitive (Live)
5. Seek 'N' Strike (Live)
6. Tribe (Live)
7. Rise Of The Fallen (Live)
8. Revengeance (Live)
9. Roots Bloody Roots (Live)
10. Jumpdaf**kup/Eye For An Eye (Live)
Label:

Nuclear Blast
Formats:

CD / DVD-MUSIC
Cat#:

727361349103