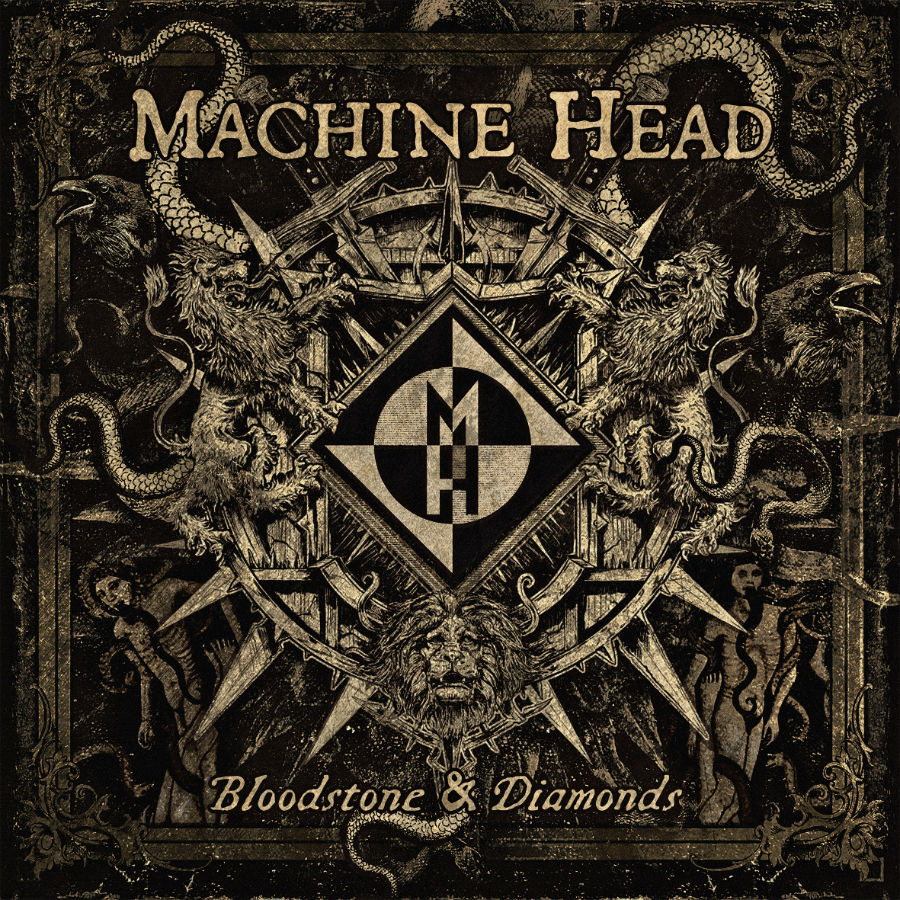 Artist:

Machine Head
Bloodstone And Diamonds: CD
As with any band that stands strong through a twenty-year plus career, there are always ups and downs, but as the beginning of the new millennium would prove, more than ever Machine Head would bow down to no one when it came to their musical output.  With nary a radio single to be had, on either 2003's Through The Ashes Of Empires or 2007's The Blackening, they challenged themselves and each other to write records that would demolish all of their boundaries, and the result was the most structurally complex and technical material that Machine Head had recorded up to that point.  Machine Head created the blueprint for the modern metal masterpiece. Touring for 'The Blackening' was both relentless and hugely successful, seeing the Oakland quartet playing Arenas with both Metallica and Slipknot, and destroying the competition at numerous festivals. Publications worldwide rushed to heap accolades upon the band, with their peers both within (Metallica) and outside of the metal world (the Grammy board) voicing their clear and unanimous opinion that Machine Head had entered a whole new age. 2011 saw the release of 'Unto The Locust', by far the most daring and complex album Machine Head have ever created.
In early 2013, longtime bassist Adam Duce parted company with the band and was swiftly replaced with Jared MacEachern (ex-Sanctity). Following yet another appearance on the Rockstar Mayhem Tour in the US, and having inked a new deal with Nuclear Blast Entertainment, the band set about the writing for their 8th studio album 'Bloodstone & Diamonds'."I cannot even begin to tell you how proud we are of this album," enthuses mainman Robb Flynn. "It's a milestone for us."
Commenting on the title, Flynn explains ,"Bloodstone and diamonds represent two of the hardest materials on earth and it's also a lyric from the opening track of the album "Now We Die". In many cultures the bloodstone has been used as an amulet to protect against evil, and is the symbol of justice. Diamonds are the hardest natural material on earth (which is how we feel about our music), and it also represents the diamond logo I drew 22 years ago that has become the symbol for the band.Produced again by Flynn and Juan Urteaga, and masterfully mixed by Colin Richardson, the album is arguably the strongest set of songs on any MH release to date. Bristling with renewed aggression, energy and adventure from the opening call-to-arms of 'How We Die', via the epic 'Sail Into The Black' and the menacing 'Beneath The Silt', Machine Head are back!
Tracklisting
1. Now We Die
2. Killers & Kings
3. Ghosts Will Haunt My Bones
4. Night Of Long Knives
5. Sail Into The Black
6. Eyes Of The Dead
7. Beneath The Silt
8. In Comes The Flood
9. Damage Inside
10. Game Over
11. Imaginal Cells
12. Take Me Through The Fire
Label:

Nuclear Blast
Formats:

CD Album
Cat#:

727361332228