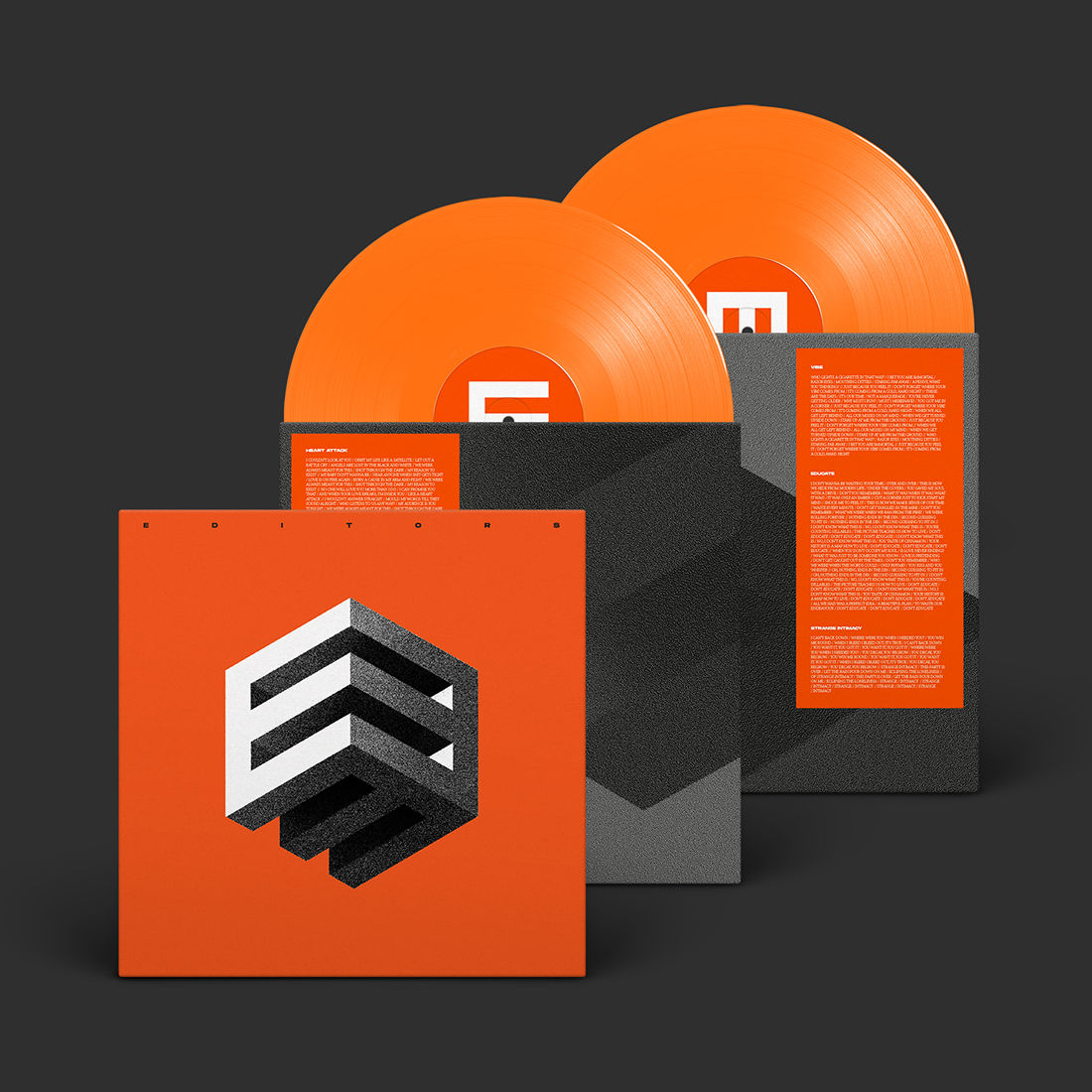 Artist:

Editors
EBM: Limited Orange Vinyl 2LP
Editors have never been a band who do what's expected. When they emerged in the early 2000s, university friends from Birmingham, they were swept into a wave of indie groups with whom they had little in common beyond playing guitars. Then, after their 2005 Mercury Prize-shortlisted debut The Back Room and 2007 #1 follow-up An End Has A Start, they switched up their sound for synths. That was their first act of bravery, says frontman Tom Smith, and they've been taking risks ever since. "We're quite used to that feeling of scaring our audience with new material," he says with a smile.
"It seems to happen with every album," agrees guitarist Justin Lockey. "We'll do something that everyone really likes, and then we'll go and do something else."
That 'something else' is a breathlessly heavy step up, with their seventh album, EBM. It's Editors' most leftfield material yet – a thrilling, unrelenting thrust of full-bodied electro-industrial rock. Another new dawn: Benjamin John Power – aka Blanck Mass – has co-produced the album and come aboard as an official member. To outside ears, it might seem like an unusual pairing: an anthemic rock band who've headlined Wembley Arena and an Ivor Novello-winning composer who is best known for his abrasive noise projects. Even Benjamin himself admits it was a "leap of faith". But Editors' evolution makes perfect sense. They've toured with The Cure, of whom they are all huge fans, and are used to playing European festivals where they're billed alongside harder acts. In Germany, for example, "we're not seen as some melodic indie band," says Justin, "we're seen as super goth." He adds: "We talked about Rammstein quite a lot when we're making this record."
For the most part, EBM revels in maximalism. The battle cry of lead single 'Heart Attack' sets out their stall, a twinkling rock ballad with a serrated, noirish undercurrent that lets rip into gloriously metallic riffage. From there, it's a torrid release of beats, blips and broodiness: all killer, no filler; full-on but never overloaded. 'Educate' is almost symphonic in scope, as Tom angrily intones about the uncertainty of modern times. 'Strawberry Lemonade', meanwhile, is an all-blooping, all-thwacking bodice-ripper, with drums that sound like they might punch out of the speakers. Album closer 'Strange Intimacy' is "the most outrageous" of the album, says Tom – "not a particularly happy place to end, as it's quite a bleak look at a relationship, but the arrangement of it gives it this theatricality." It's certainly the most ambitious Editors have ever sounded, where Justin's "preposterous" guitar riff gives way, he says, to a "mad eight-minute techno odyssey" at the end.
Label:

Play It Again Sam
Formats:

Vinyl LP
Cat#:

PIASR1280LPD