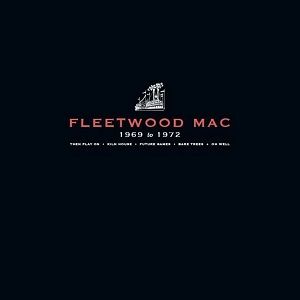 Artist:

Fleetwood Mac
Fleetwood Mac 1969 to 1972: Vinyl Box Set
Fleetwood Mac are one of rock's most enduring, beloved and successful bands, through several decades and changing line-ups they have steadily amounted more than 10 million album sales worldwide.
This June, Warner Music goes back to the beginning with a fantastic limited edition collection of their early work from the period 1969 – 1972, lovingly reproduced on 140gr vinyl.
Vinyl Box Set Inlcudes:
Then Play On (Gatefold Sleeve/ Bonus 7" Single)
Released in September 1969 Then Play On was the band's third studio album and their first release with Reprise Records. It was the first to feature Danny Kirwan and would become their last with Peter Green.
Side 1:
Coming Your Way ~ Closing My Eyes ~ Fighting For Madge ~ When You Say ~ Show-Biz Blues ~ Underway ~ One Sunny Day
Side 2:
Although The Sun Is Shining ~ Rattlesnake Shake ~ Without You ~ Searching For Madge ~ My Dream ~ Like Crying ~ Before The Beginning
Bonus 7":
Oh Well Pt I & II
Kiln House (Gatefold Sleeve)
With the departure of Peter Green Fleetwood Mac moved towards a more melodic pop sound on Kiln House, Christine McVie was present at the recording sessions and contributed backing vocals and cover art, but did not become a full member of the band until shortly after the album's completion
Side 1: This Is The Rock ~ Station Man ~ Blood On The Floor ~ Hi Ho Silver ~ Jewel Eyed Judy
Side 2: Buddy's Song ~ Earl Gray ~ One Together ~ Tell Me All The Things You Do ~ Mission Bell
Future Games (Single Sleeve)
Future Games was the band's first album with American guitarist Bob Welch and also saw the official introduction of Christine McVie as a full band member, moving even further towards a folk-pop sound.
Side 1: Woman Of A Thousand Years ~ Morning Rain ~ What A Shame ~ Future Games
Side 2: Sands Of Time ~ Sometimes ~ Lay It All Down ~ Show Me A Smile
Bare Trees (Single Sleeve)
The band's sixth studio album Bare Trees featured Danny Kirwan as the dominant figure, writing five songs to Christine McVie and Bob Welch's two a piece, but ultimately it would become his last with the band after he was fired following the album's supporting tour.
Side 1: Child Of Mine ~ The Ghost ~ Homeward Bound ~ Sunny Side Of Heaven
Side 2: Bare Trees ~ Sentimental Lady ~ Danny's Chant ~ Spare Me A Little Of Your Love ~ Dust ~ Thoughts On A Grey Day
Label:

Rhino
Formats:

Vinyl Box Set
Cat#:

81227965358