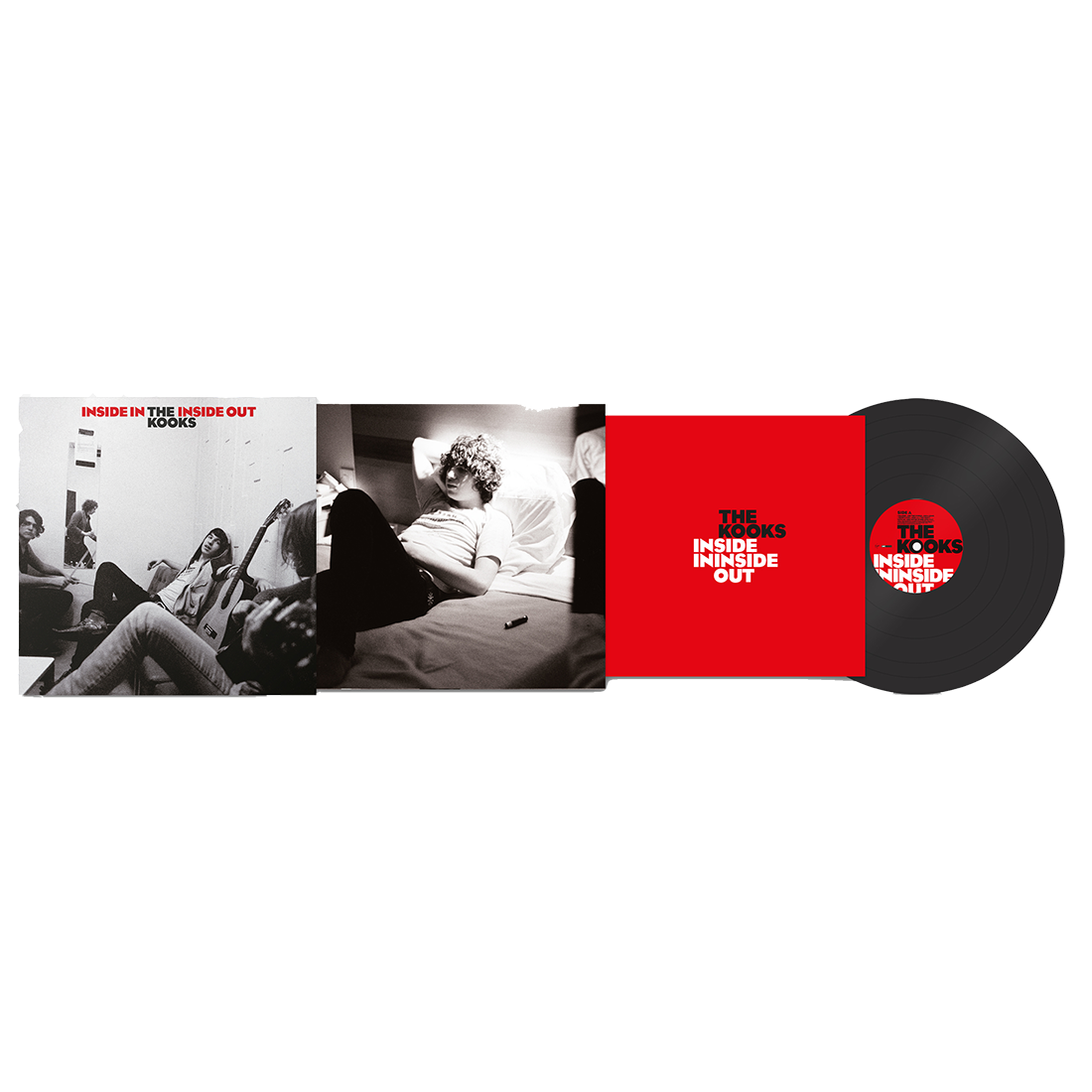 Artist:

The Kooks
Inside In, Inside Out: Vinyl 2LP
To celebrate its 15th anniversary in 2021, The Kooks today announce a reissue of their seminal debut album 'Inside In / Inside Out' due 27th August via Virgin Records/UMC. Repackaged for new and old fans alike, the deluxe edition will feature the original album remastered and thirteen previously unreleased tracks.
Originally released in 2006, the quadruple-platinum-selling album spawns timeless hits including BRIT nominated 'She Moves In Her Own Way', 'Seaside' and the band's top five single 'Naive'. With over 1.3 billion streams on Spotify today, the unstoppable 'Inside in / Inside Out' is a record that fizzes with the exuberance of youth and a certified staple of British indie which continues to win over new fans as it's remarkable streaming figures prove. 'Inside In/Inside Out' became an essential classic and remains so today. The record has been remastered from the original master tapes by John Davis (Gorillaz, The Killers) and is released on heavyweight black vinyl and a limited edition red coloured vinyl, both including 4 alternate versions of fan favourites 'Seaside', 'Ooh La', 'She Moves In Her Own Way' and 'Naive' taken from the original album recording sessions by producer Tony Hoffer. It's also packed with unheard demos that range from acoustic jams such as Jack Johnson's 'inaudible Melodies' and 'Theory Of A Pop Star' to full-blast studio demos such as 'Sofa Song' and 'Matchbox' that capture the youthful exuberance of this quintessential indie band. Other features include a 8,000 word sleevenote based on new interviews with the original band members.
To coincide with the re-release of the iconic record, The Kooks will also be performing Inside In/ Inside Out in its entirety and in a way that it has never been performed live before. Taking place from January 2022 onwards, the tour includes ten dates all across the UK, finishing with two performances at London's O2 Brixton Academy in February. Tickets go on sale today via The Kooks website.
The Kooks have enjoyed an impressive rise to fame since the release of their debut album, which reached Number One in the UK Album Charts. Since then, they've gone on to release four further albums with their most recent 'Let's Go Sunshine' achieving top ten status in the UK Album Charts in 2018. Alongside a new breed of fans, the band have gained countless streams across multiple platforms and embarked on a number of world tours, including a sold-out UK arena tour.
Label:

Virgin
Formats:

Vinyl LP
Cat#:

3560230