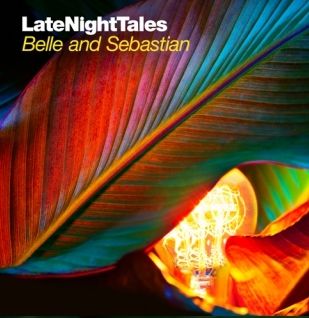 Artist:

Belle & Sebastian
Late Night Tales - Belle and Sebastian (Volume 2): CD
The celebrated Scottish indie pop group Belle and Sebastian are welcomed back for a second Late Night Tales, the 27th in the esteemed compilation series. Belle and Sebastian formed in Glasgow in 1996 where the success of college recorded cult debut album 'Tigermilk' led the band to signing to Jeepster for 'If You're Feeling Sinister'; listed by Pitchfork at #14 in its top 100 albums of the 90s and is widely considered the band's masterpiece. Following the critically acclaimed 'The Boy With The Arab Strap' B&S signed with Rough Trade (UK) and Matador (US) and have released a further five albums, most recently 'Belle And Sebastian Write About Love' in 2010. Other accolades include being voted Scotland's greatest band in a poll by The List in 2005, their own Bowlie Weekender festival, a Brit Award and Mercury Music Prize and Ivor Novello Award nominations. The current line-up is founder Stuart Murdoch, Stevie Jackson, Chris Geddes, Richard Colburn, Sarah Martin, Mick Cooke and Bobby Kildea.
Their scene straggling 2006 Late Night Tales included pure pop, 60s psyche, 70s rock, West Coast harmonies, beat groups, folk balladering, punk, indie, girl groups, bossanova. This new selection only delves deeper into their shared influences and inspirations, along with a subtle nod to digging for rare sampled beats: not perhaps an trait usually associated with B&S. World-wise psychedelic breaks thread the mix together; significantly so with two tracks from Broadcast bookending a first half that includes late 60s dreamers The Wonder Who? and Joe Pass, father of Ethio-jazz Mulatu Astatke, harpist Dorothy Ashby and the 21st century beats of Gold Panda.
Following a mid-section detour through dissonant post-punk and deep jazz courtesy of The Pop Group and Stan Tracey Quartet; recent releases from fellow Scots Remember Remember and South Carolina's Toro Y Moi rubs shoulders with Ce'cile's 2002 Cure referencing riddim 'Rude Bwoy Thug Life' and Blood, Sweat & Tears classic version of 'Spinning Wheel'. For the obligatory Late Night Tales cover version, Belle and Sebastian have chosen The Primitive's 1988 pop-punk classic 'Crash', recreated in the band's own inimitable style. Two beautiful records close the mix: Steve Parks haunting soul vocal 'Still Thinking Of You' and an excerpt of the calm improvisation 'On The Other Ocean' from David Behrman's 1977 experimental album. As ever, the trip concludes with our bedtime story with the third part of Paul Morley's 'Lost For Words'.
This is music for the Celt in all of us. Holed up in a West End of Glasgow apartment, the wind yowling mercilessly about us, we drift off to the sound of bliss. There is only warmth here and, obviously, a draft or two fired in the direction of Belle and her good friend Sebastien.
Tracklisting
1. Broadcast - Ominous Cloud
2. The Wonder Who? - Watch The Flowers Grow
3. Joe Pass - A Time For Us
4. Mulatu Astatke Yekermo Sew - A Man Of Experience And Wisdom
5. Milton Nascimento & Lô Borges - Tudo Que Você Podia Ser
6. Marie Laforêt - Et Si Je t'aime
7. Bonnie Dobson - Bird Of Space
8. Dorothy Ashby - Soul Vibrations
9. McDonald And Giles - Tomorrow's People
10. Gold Panda - Quitters Raga
11. Broadcast - Chord Simple
12. The Pop Group - Savage Sea
13. Stan Tracey Quartet - Starless And Bible Black
14. The Lovin Spoonful - Darling Be Home Soon Sony
15. Belle And Sebastian - Crash (Exclusive cover version of The Primitives)
16. Roland Vincent - L.S.D. Partie
17. Toro Y Moi - Still Sound
18. Ce'cile - Rude Bwoy Thug Life
19. Remember Remember - Scottish Widows
20. Trees - Streets Of Derry
21. Blood, Sweat & Tears - Spinning Wheel
22. Pete Shelley - Homosapien (Dub)
23. Steve Parks - Still Thinking Of You
24. David Behrman - On The Other Ocean
25. Paul Morley - Lost For Words pt.3(Exclusive spoken word piece)
Label:

EMI
Formats:

CD Album
Cat#:

ALNCD27