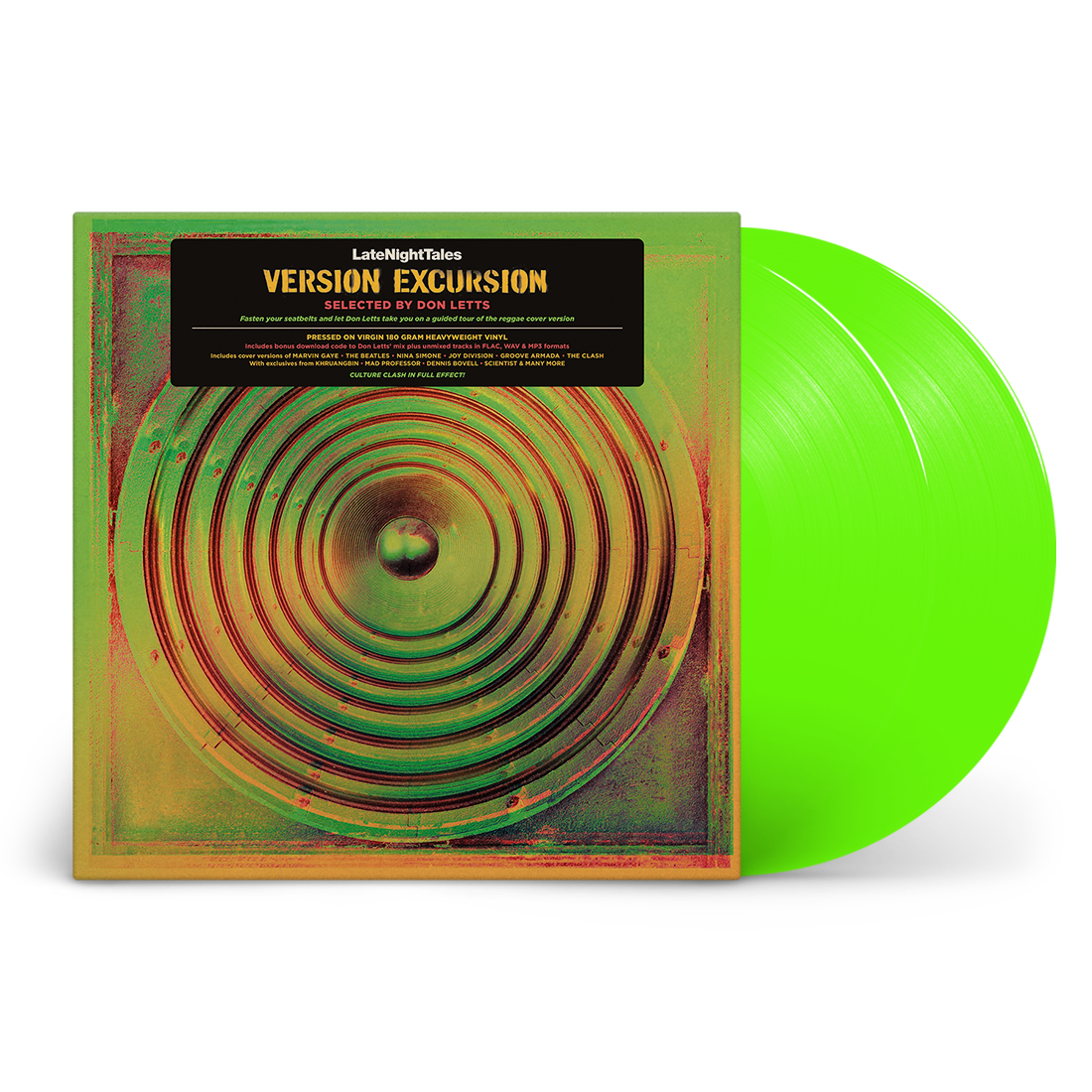 Artist:

Various Artists
Late Night Tales presents Version Excursion (selected by Don Letts): Fluorescent Green Vinyl 2LP
Cultural polymath - pop star, filmmaker, radio broadcaster, commentator, Grammy winner. Oh and DJ, too. Take your pick from the many coats worn by our selector, Don Letts aka The Rebel Dread.
Born in Brixton, a child of the Windrush Generation, Letts' slippery and unorthodox career is somewhat hard to define, without taking a few detours around London, New York and Jamaica. He began his working life managing the dauntingly hip Acme Attractions on Chelsea's Kings Road, where he made a mark with his attitude, dress and, especially, the pounding dub reggae that vibrated the shop's walls. His first gig as a DJ at the short-lived Roxy in Neal Street, became mythical for turning a generation of punks on to reggae. They in turn hipped him to their DIY ethos resulting in his reinvention as a filmmaker. This led to a shed-load of music videos (Linton Kwesi Johnson, The Clash, Bob Marley) not to mention documentaries on the likes of Gil Scott-Heron, George Clinton and Sun Ra.
In the '80s, he was part of Mick Jones' new venture, Big Audio Dynamite and his innovative use of samples were a core part of their sound. Listeners of his weekly 6 Music radio show are taken on a musical safari that moves seamlessly between time, space and genre. It's not called Culture Clash Radio for nothing. So this latest bulletin from Letts HQ is merely one angle of a multifaceted personality, his take on the JA tradition of the cover version.
The history of Caribbean music owes a debt to R&B as many of the early island releases were cover versions of US 45s. Ska's breakthrough commercially, Millie Small's 'My Boy Lollipop', was originally recorded by Barbie Gaye in '50s New York. Cover versions became quite a thing in Jamaica and Don, following in that tradition, has dug deep with a selection of interesting dubbed out covers including thirteen exclusives.
"A disciple of sound system, raised on reggae n' bass culture my go to sound was dub. Besides being spacious and sonically adventurous at the same time, its most appealing aspect was the space it left to put yourself 'in the mix' underpinned by Jamaica's gift to the world - bass. But that's only half the story as the duality of my existence meant I was also checking what the Caucasian crew were up to not to mention the explosion of black music coming in from the States. That's why this version excursion crosses time space and genre, from The Beach Boys to The Beatles, Nina Simone to Marvin Gaye, The Bee Gees to Kool & The Gang, The Clash to Joy Division and beyond. You'd think it impossible to draw a line between 'em but not in my world. Fortunately, the 'cover version' has played an integral part in the evolution of Jamaican music and dub covers were just a natural extension."
There's a diverse mix of classic and new, with legendary figures like John Holt, The Tamlins and Cornell Campbell, mixed in with British veterans Mad Professor and the irrepressible Dennis Bovell, while (relatively) young striplings Kiko Bun, Emily Capell and Prince Fatty deliver the goods, with laidback Texan groovers Khruangbin also offering an exclusive bass heavy-delight.
The song choices are diverse, from French dubsters' OBF's renditions of 'Sixteen Tons', the miners' paean popularised by Tennessee Ernie Ford in the 1950s, to Ash Walker's refix of Omar's 'There's Nothing Like This' and 'All I Do Is Think About You', immortalised by the ill-fated Tammi Terrell and preserved here by Quantic (the latter two both exclusives). Being a Rebel Dread compilation, there's a cover (by Wrongtom Meets The Rockers) of The Clash's 'Lost In The Supermarket' while Don's exclusive, naturally, is a rendition of Big Audio Dynamite's debut hit, 'E = MC2'.
"Truth be told I've wanted to work with the Late Night Tales crew from the get go. We're talking nearly two decades such was the allure of their musical aesthetic typified by curators like Nightmares on Wax, The Flaming Lips, MGMT, Trentemoller, Khruangbin and countless others. Now being as old as rock n' roll (born in '56) and having nearly 20 years of Culture Clash Radio under my belt I figured I was tooled up to musically juggle with the best of 'em. But I wanted to carve out a space that was distinctly my own - something that reflected my musical journey and the culture clash that's made me the man I am today."
Label:

Late Night Tales
Formats:

Vinyl LP
Cat#:

ALNLP64X