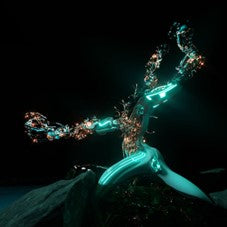 Artist:

Mind Against
Metoflora: Deluxe Transparent Vinyl 3LP Box Set
Mind Against launch their eagerly awaited imprint Habitat with a 15-track compilation titled "METAFLORA", available as a deluxe transparent vinyl 3LP box set including a 24x12" fold-out poster.
Suitably, the compilation features new and emerging artists with whom Mind against have relationships, and recurrent motifs of subtly unsettling melodic house/techno building alternate worlds in soundscapes.
Mind Against & Sideral – 'Criseide' heralds this new world with portentous pounding beat/bass, the melodic synth singing beneath like beauty surviving under threat, the vocal/lyrics with an edge of alarm: 'if you think it couldn't happen to you…'
'Talk To Me' by Dyzen (who also collab'ed with Mind Against on their fabric presents compilation) has stately chords riding a prancing beat while sombre piano and sweet high vocal create a heraldic, post-apocalyptic nu-medieval world, whereas Sam Shure's 'Plus Ultra' has rattling percussion, with melody like a coded message from an abandoned spaceship to which something replies in stark tones…
Marino Canal, whose debut album was released by Nicole Moudaber's MOOD, and who has support from many big names including fabric's founder Keith Reilly, features plangent notes veering up, down and off the scale for a disturbing effect in 'Ample', while Swiss duo Read The News in 'A Place' set a fast, kicking beat against a female voice yearning for 'a space where I can just be'.
Remcord, often played by Black Coffee, Tale of Us and more besides MA, show us why in 'Entourage Effect' while Laroz gives a lively melody and raucous chords in 'Don't Touch' feat. Sheera as her cool, raunchy, layered vocals come to the fore.
Tracklisting 
Mind Against & Sideral - Criseide  
Remcord - Entourage Effect  
Dyzen - Talk To Me  
Read The News - A Space  
Losless - Ground Echoes  
vory - There Would Come A Day  
Beswerda - Out Of The Blue  
Ae:ther - Disco Biscuit  
Vaert - High Hopes  
Momery - Ophelia ft. Running Pine  
 Marino Canal - Ample  
Nandu - YGIG  
ENOS - Supernova  
Sam Shure - Plus Ultra  
 Laroz - Don't Touch ft. Sheera 
Label:

Above Board Projects
Formats:

Vinyl Box Set
Cat#:

HBT1LP