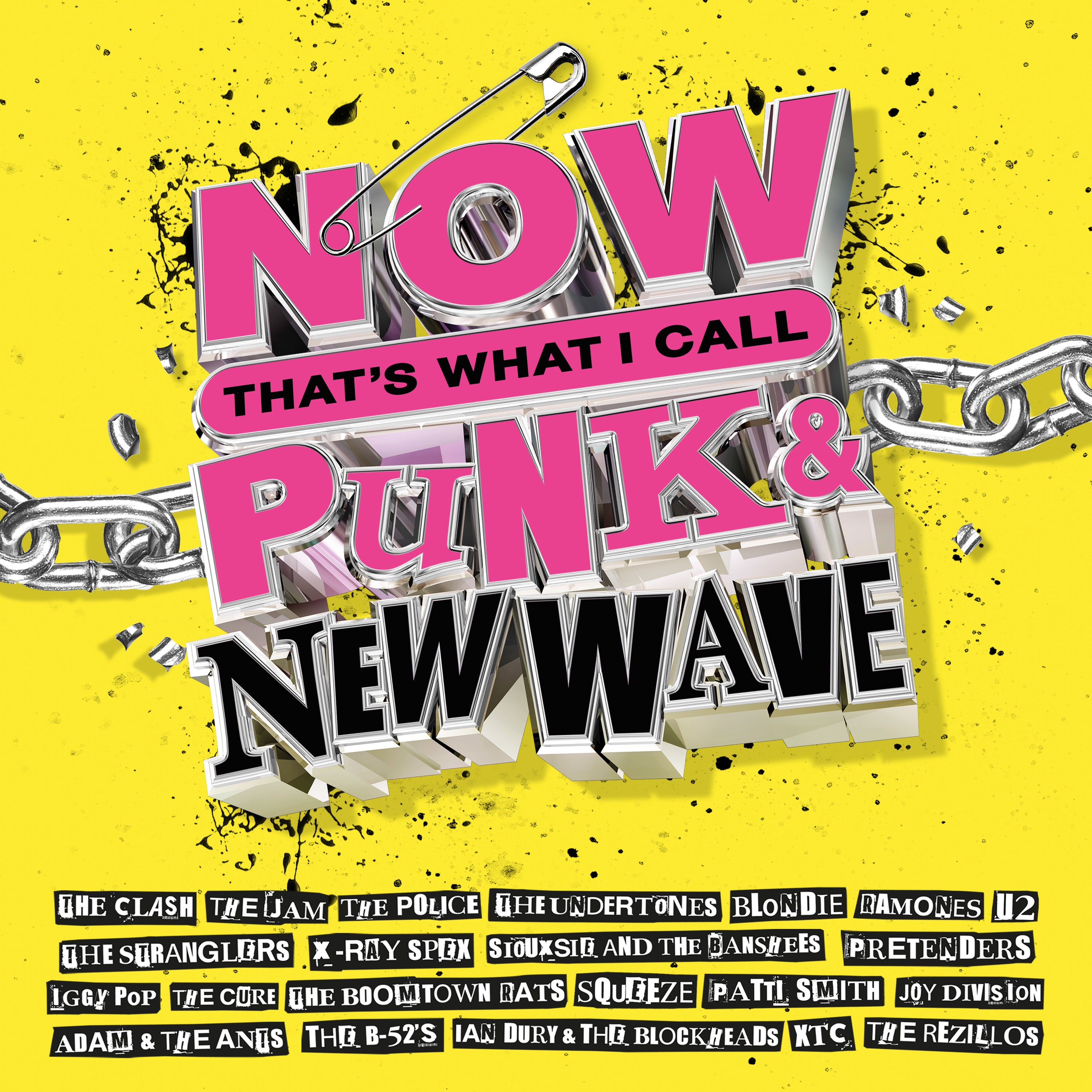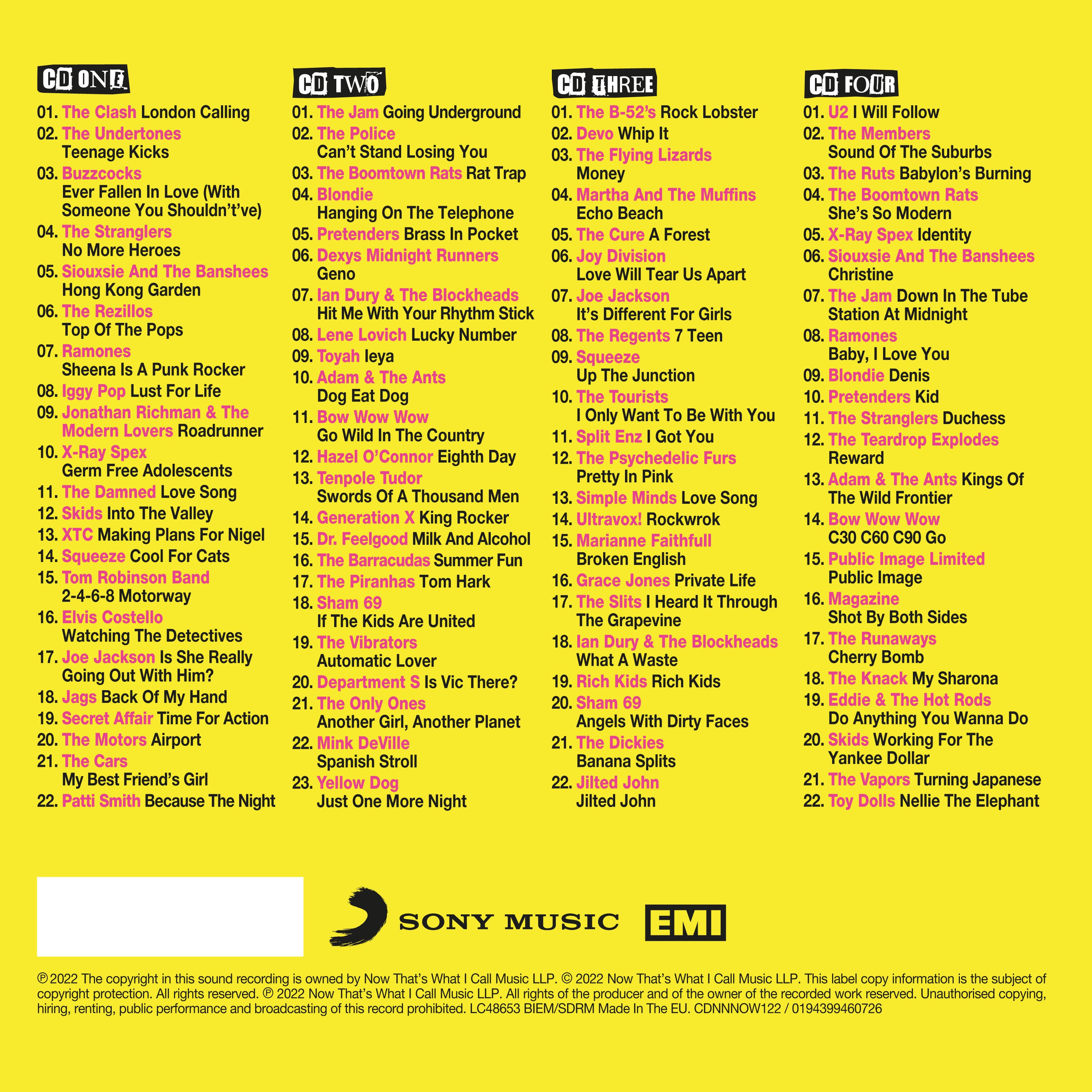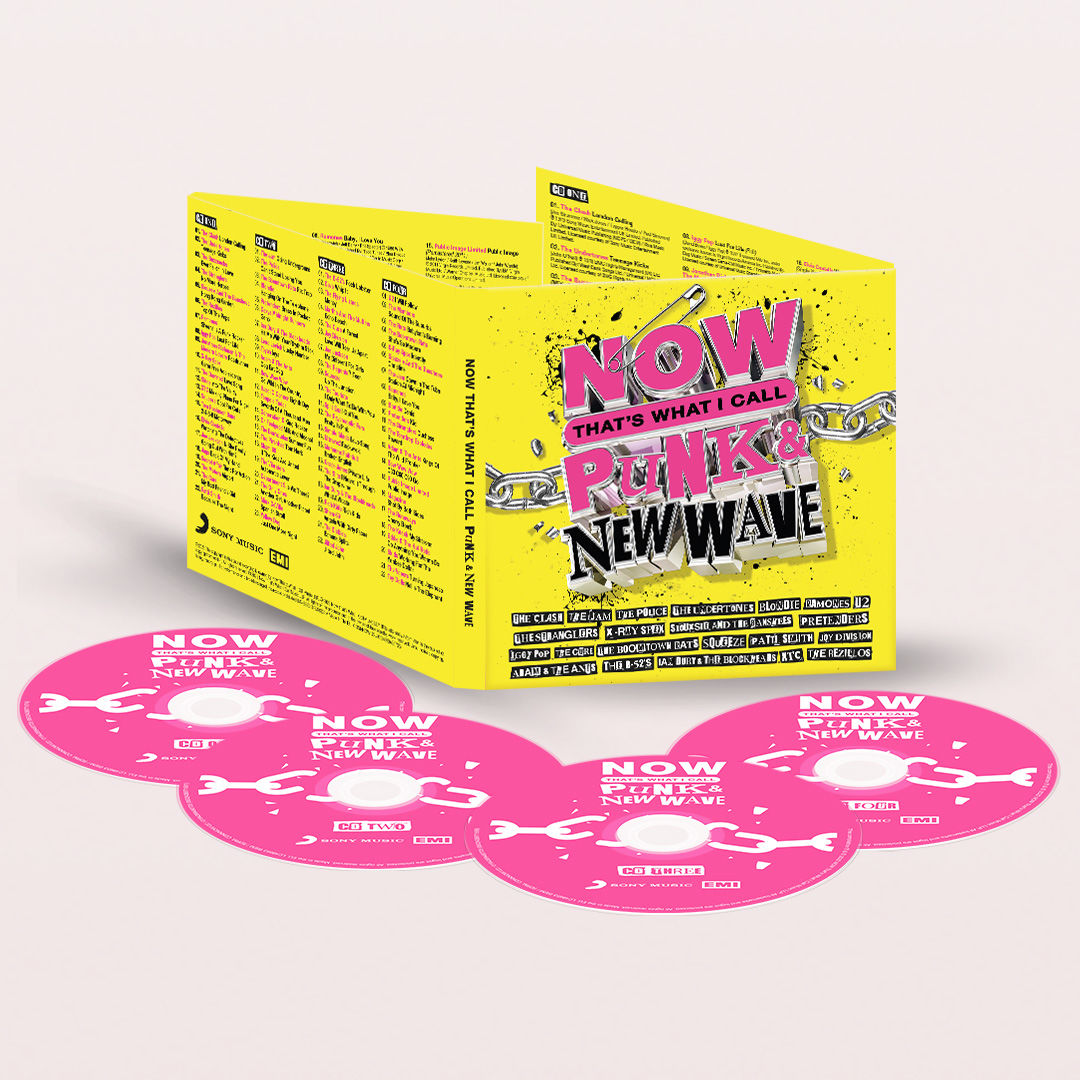 Artist:

Various Artists
NOW That's What I Call Punk & New Wave: 4CD
NOW Music proudly presents NOW That's What I Call Punk & New Wave - a collection encapsulating the spirit of the times, and of the movement that changed the course of mainstream pop music.
89 tracks across 4 CDs, present the era's most iconic artists, including The Clash, Blondie, Ramones, U2, Buzzcocks, Siouxsie And The Banshees, Adam & The Ants, The Jam and The Cure.
'London Calling' by The Clash, The Undertones' breakthrough hit 'Teenage Kicks', and Buzzcocks 'Ever Fallen In Love (With Someone You Shouldn't've)', kick off the first disc - alongside classics from The Stranglers, Siouxsie And The Banshees and Ramones.
The late 70s and early 80s saw an explosion of punk and new wave groups and artists moving from the underground to mainstream chart success. No.1s from The Jam with 'Going Underground', 'Brass In Pocket' by Pretenders, The Boomtown Rats' 'Rat Trap', Dexys Midnight Runners' 'Geno', and Ian Dury & The Blockheads' 'Hit Me With Your Rhythm Stick' are all here, as well as top 5 hits from Squeeze, Lene Lovich, Joe Jackson and Patti Smith.
The genre also gave the first crossover success for bands that became the biggest acts in music during the late 70s and early 80s, including The Police, U2, The Cure, Blondie, all featured – along with two tracks from Adam & The Ants' breakthrough album 'Kings Of The Wild Frontier', with the title track and 'Dog Eat Dog'.
True unique masterpieces of song-writing and performance that sound as fresh today as they did then include Iggy Pop's 'Lust For Life', The Members' 'Sound Of The Suburbs', Joy Division's 'Love Will Tear Us Apart', and 'Rock Lobster' from The B-52's.
Brilliant covers flooded the charts – bringing new arrangements and different perspectives to established tracks, including The Slits' cover of the motown classic 'I Heard It Through The Grapevine', 'Money' by The Flying Lizards, Blondie's 'Hanging On The Telephone' and 'Denis', and 'I Only Want To Be With You' by The Tourists.
A fantastic collection of unique tracks that summarize an incredible time for music.
NOW That's What I Call Punk & New Wave is also available as 2 LPs pressed on neon pink vinyl featuring a selection of 34 tracks.
Label:

Now
Formats:

CD Album
Cat#:

CDNNNOW122