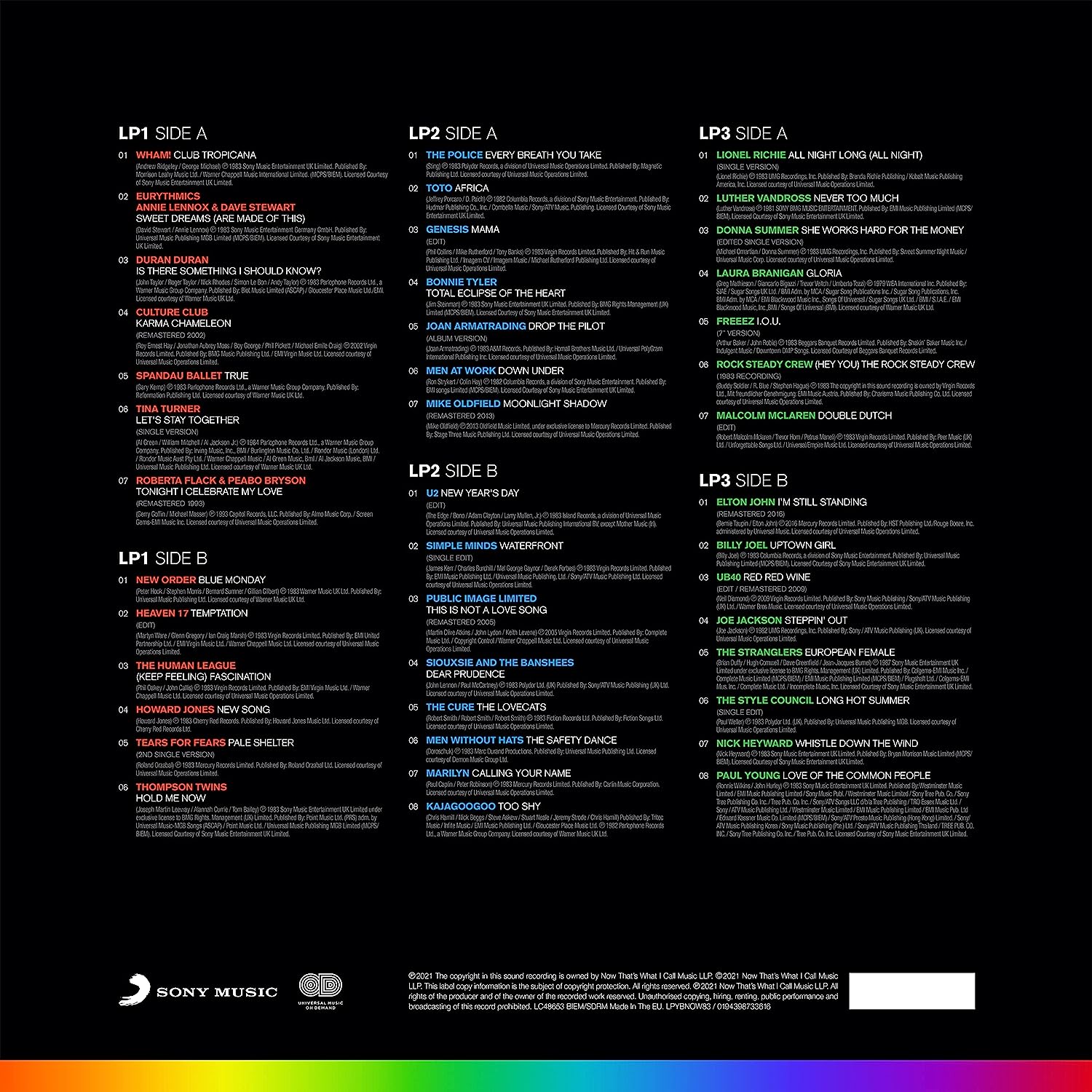 Artist:

Various Artists
NOW – Yearbook 1983: Vinyl 3LP
Featuring 43 tracks on 3LP's – a limited edition of 3000 units, pressed on translucent red vinyl... Celebrating the first year of 'NOW That's What I Call Music' – 1983. 'Now Yearbook' presents a stellar selection of 1983's biggest and best hits… huge chart hits from the year, alongside enduring and well-loved classics…
1983 saw British artists achieving unprecedented success across the world with 'Every Breath You Take' from The Police being the year's biggest seller in the U.S., and 'Karma Chameleon' from Culture Club being the top seller in the U.K. Breakthrough acts, achieving their first big hits – all here – include a staggering line-up of future superstars: U2, Eurythmics, Wham!, Paul Young, The Style Council, and Thompson Twins, to name a few..
A large number of established artists also scored their biggest ever hits in 1983 : Bonnie Tyler produced a global smash with 'Total Eclipse Of The Heart', Billy Joel's 'Uptown Girl' introduced his biggest selling album in the U.K., Lionel Richie's 'All Night Long' was the year's feel-good track, Elton John's 'I'm Still Standing' was an instant classic on release, and Tina Turner hit big with 'Let's Stay Together', which would lead to the huge success of the 'Private Dancer' album the following year….and not forgetting Genesis, Donna Summer, Mike Oldfield, Joan Armatrading, and a stunning collaboration between Robert Flack & Peabo Bryson on 'Tonight I Celebrate My Love'….
1983 also saw a number of artists who had seen previous releases on the fringes of the chart achieve mainstream success including The Cure, and New Order with the defining 'Blue Monday', and former punk and new-wave chart regulars saw renewed success including Siouxsie And The Banshees, The Strangers, Public Image Limited, and Joe Jackson…
Synth Pop continued to dominate and Howard Jones, Tears For Fears, The Human League, Heaven 17 and Simple Minds all enjoyed a hit packed year, alongside electro-dance smashes from Freeez, Malcolm McLaren, Rock Steady Crew, Laura Branigan… and the aforementioned New Order. Some of the most enduring tracks include Toto's 'Africa', UB40's 'Red Red Wine' and Luther Vandross' 'Never Too Much'
'NOW Yearbook 1983': 43 songs that reflect the charts in the year that 'NOW' began… and celebrates the musical diversity of the era – from huge hits that are still played on the radio today, alongside lesser compiled but equally cherished tracks.
Label:

Now
Formats:

Vinyl LP
Cat#:

LPYBNOW83