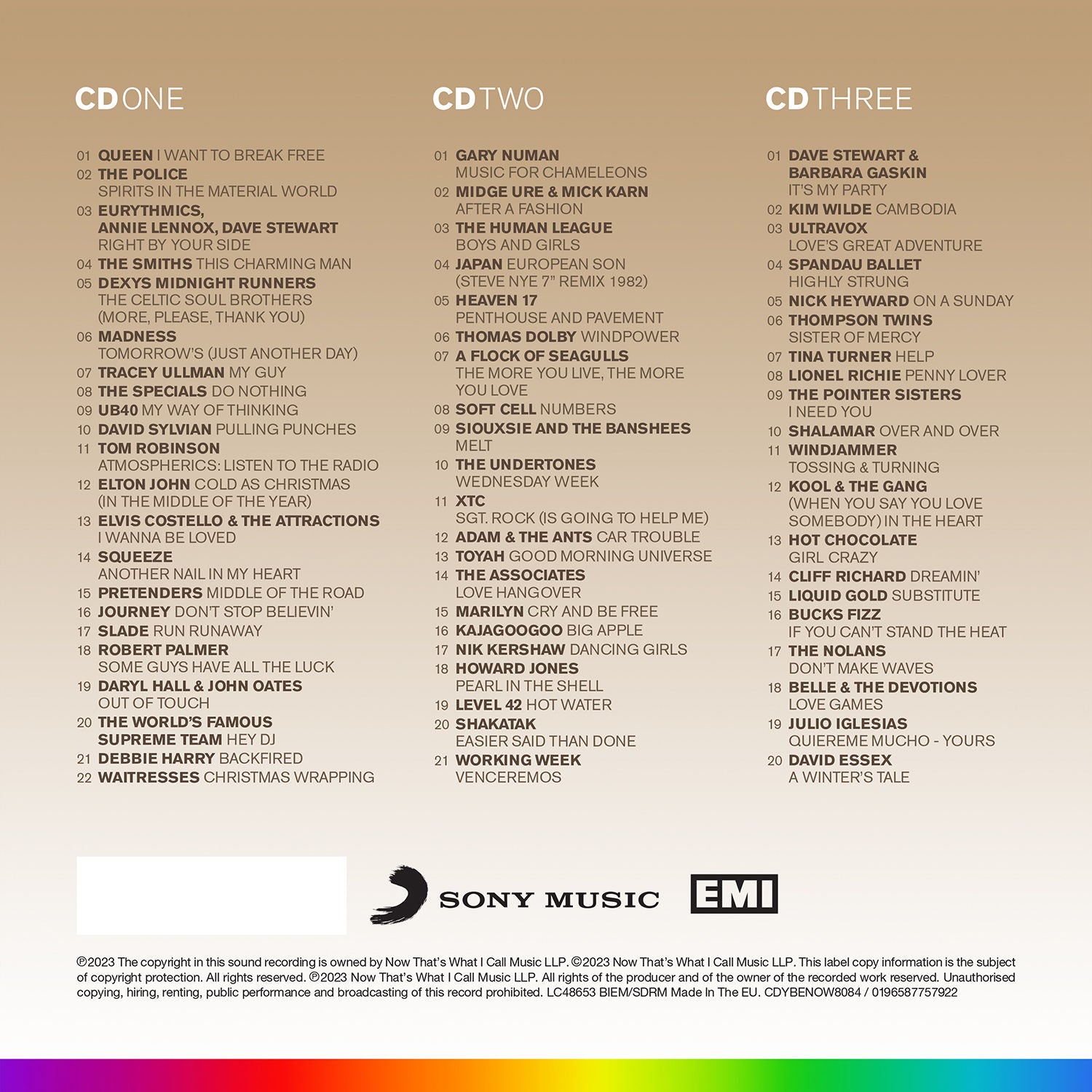 Artist:

Various Artists
NOW - Yearbook Extra 1980 - 1984: The Final Chapter (3CD)
NOW is proud to present 63 more essential pop memories: 'NOW - Yearbook Extra 1980 - 1984: The Final Chapter' – an epilogue to the recent 'Final Chapter' collection.
We would have respected the word 'final'! – but these years were so rich for pop gems, these tracks had to be included in our celebration of the era!!!
Disc One kicks off with the iconic 'I Want To Break Free' from Queen, before moving on to The Police, Eurythmics and 'This Charming Man' from The Smiths. Huge Pop hits from Madness, Dexys Midnight Runners, The Specials and UB40 lead into fantastic lesser compiled songs from David Sylvian, Elton John, Elvis Costello & The Attractions, and Tom Robinson, before some rock from Pretenders, Slade and the timeless 'Don't Stop Believin'' from Journey – and signing off with classics from The World's Famous Supreme Team, Debbie Harry, and the sublime seasonal favourite from Waitresses.
The second disc opens with a stellar run of Synth-Pop including from Gary Numan, Midge Ure & Mick Karn, The Human League, Japan, Heaven 17, Thomas Dolby, and Soft Cell, before Post-Punk hits from The Undertones, Siouxsie And The Banshees, XTC and Adam & The Ants. Pop nuggets from Toyah, Marilyn, and Nik Kershaw lead into the Funk of 'Hot Water' from Level 42, Shakatak, and the rarely compiled 'Venceremos' from Working Week.
The final disc opens with the massive No. 1 'It's My Party' from Dave Stewart & Barbara Gaskin, alongside Pop gold from Kim Wilde, Ultravox and Spandau Ballet. Sophisticated ballads from Tina Turner and Lionel Richie lead toward Soul-Pop from Windjammer and Kool & The Gang before a final run of heavenly Pop including Cliff Richard, Liquid Gold, and Bucks Fizz before closing with easy-listening Pop from Julio Iglesias and a winter classic from David Essex.
NOW - Yearbook Extra 1980 - 1984: The Final Chapter – a further and final celebration of the diversity and magic of Pop between 1980 and 1984.
Label:

Now
Formats:

CD Album
Cat#:

CDYBENOW8084