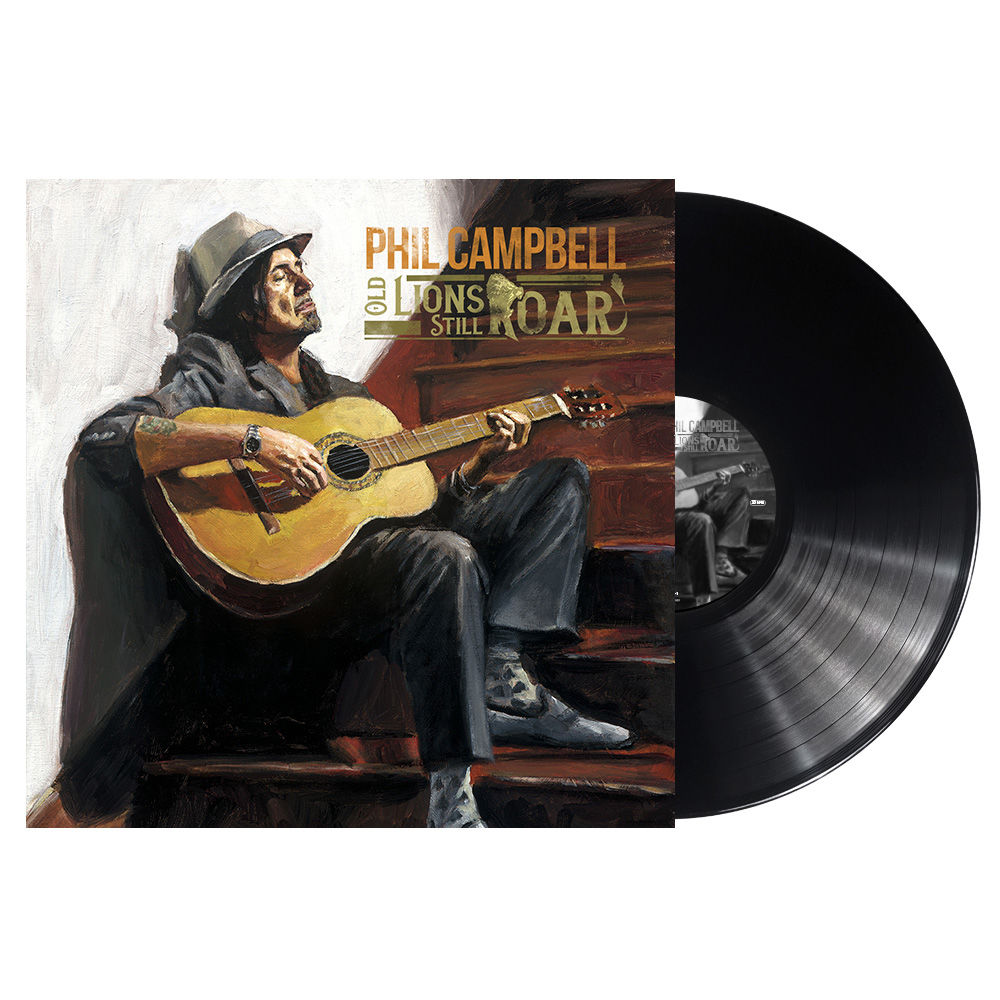 Artist:

Phil Campbell
Old Lions Still Roar: Vinyl LP
"Some people just don't need no introduction. And this fine gentleman is high on top of that list: Phil Campbell, Welsh rock titan, MOTÖRHEAD guitarist for more than 30 years until the bitter end, father of that hard rocking spawn called BASTARD SONS, rock and roll luminary. In short: the stuff six string legends are made of. Slowly but steadily nearing his sixties, Phil Campbell still hasn't lost his hunger for the noise. After a highly successful record as PHIL CAMPBELL AND THE BASTARD SONS (the family rock act he pulled off with his own three sons) and a feverish run of live dates with the likes of GUNS'N'ROSES, he's about to shed his skin once again – only to reveal his own true self this time around.
Ladies and gentlemen, we finally give you Phil Campbell solo, no strings attached, straight in your face, no remorse rock and roll for a time in which exactly that is sorely missing. And believe us, it was a long way coming. "This is something I wanted to do many years before MOTÖRHEAD finished", he tells us. "I talked to Lemmy about it many times and he always encouraged me. It just never came about because we were touring so relentlessly. But I kept the odd idea and riff from way back and never abandoned the idea. Now I felt the time was right to do it."
The title of his first solo record? "Old Lions Still Roar". Oh yes, Mister Campbell, they do. And decidedly more so than the cubs. Armed with an arsenal of fierce riffing, anthemic hooks, pumping energy and no-holds-barred hard rocking fuel, Campbell underlines his reputation as one of rock's keenest preservers. "A good song is a good song", he says about the record, "and obviously, there are some good classic rock songs on my solo debut. Yet, there are a few experimental songs that could be seen as a departure from those people who primarily know me from my work with MOTÖRHEAD which I am extremely proud of and always will be. But in most cases a musician is more than just one specific style. And on this album I spread my wings a little bit here and there."
Recruiting a cast of stellar all-star guests to participate on what is easily not only the most anticipated solo debut of recent times but also the one exceeding every expectation, Campbell now reaps the harvest. Big time. Humble Welsh fellow that he is, tries to talk it all down, of course. "I just wanted to make a good album", he shrugs. An album, mind you, Rob Halford (JUDAS PRIEST), Ben Ward (ORANGE GOBLIN), Alice Cooper, Nick Oliveri (MONDO GENERATOR) or Dee Snider (ex-TWISTED SISTER) eagerly participated in.
There you have it. Phil Campbell is a genuinely nice guy. Not exactly what you might expect in a rock star. But then again, it's what made all those stars instantly agree to collaborate with him. Karma hitting hard. "Mostly when I came up with a song and thought it would be right for a particular vocalist I would send it to them to see if they would be interested in collaborating. It was basically the same process for all the other guest musicians too. Some of them have their own studios, which made the process rather smooth. They all took a little time to do it which means a lot to me."
Framed by a country rock infused smasher 'Rocking Chair', recorded with an old Gibson from the 40s, and the opaque, nostalgic acoustic prelude 'Tears From A Glass Eye', graced by Joe Satriani's incomparable string wizardry, Campbell loads up on a bunch of meaty, broad-shouldered classic yet contemporary rock bangers showcasing his signature guitar bonfire to the max. "It is such a special, exciting instrument", he raves. "You can take it as far as you want as long as you know what you're doing." He does. Recorded with his son Todd Campbell in the family home studio in Wales, "Old Lions Still Roar" is all we could have hoped for in a Phil Campbell solo album. And with a new BASTARD SONS album coming up next year, the future looks decidedly Campbell to us. Needless to say, that is indeed good news for the world of rock and roll.
Label:

Nuclear Blast
Formats:

Vinyl LP
Cat#:

727361490713