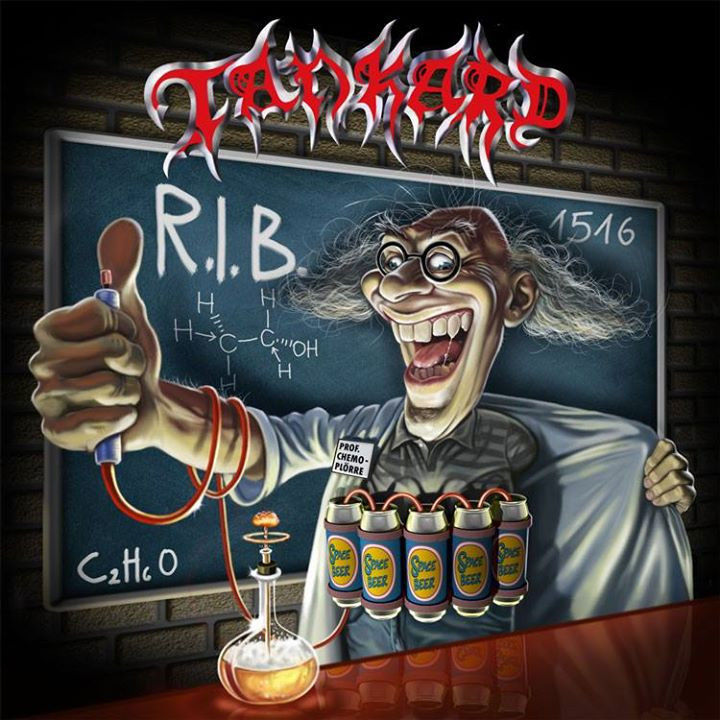 Artist:

TANKARD
R.I.B. Limited Edition CD + DVD
The story of TANKARD is an unusual one: The Frankfurt-based Thrash Metal outfit were formed in the early 80s as part of the internationally-successful German Thrash wave (e.g. KREATOR, DESTRUCTION, SODOM). While other bands split up, leaving fans waiting for a reunion, TANKARD battled on,releasing quality thrash and playing live all over the World.
Precise as clockwork, the band release a powerhouse new opus every other year and manage to continuously establish and enlarge their fan base. Meanwhile, the band has achieved cult status - when you think of Thrash Metal and beer, the name TANKARD will clearly be the first thing that comes to mind.
With their last studio album 'A Girl Called Cerveza' , the Thrash Metal veterans managed to hit their highest German chart entry to date (#32), thus proving they are far from ready for retirement. For a total of 32 years now TANKARD have played their very own sound, and even on their 16th dedication to the craft of brewing they are still bursting with ideas.
The new record 'R.I.B.' neatly combines all Tankard trademarks that they have refined over the past 3 decades : Razor-sharp riffs, crushing old-school Thrash attacks, catchy melodies and of course their own very special type of humour.The lyrics cover everything from serious topics ('Warcry', 'Hope Can't Die', 'Enemy Of Order') to joyful party hymns ('R.I.B. (Rest In Beer)', 'Breakfast For Champions', 'Party Ain't Over Til We Say So').
The record was produced at legendary Studio 23/Frankfurt by Michael Mainx (BÖHSE ONKELZ, DER W, DISBELIEF, D-A-D), who gave TANKARD a fresh and earthy sound. To top this, an old friend is revisiting this year: The crazy professor from the 1987 album 'Chemical Invasion' is catching up with TANKARD, brought back to life on the album artwork by Patrick Strogulski.
Tracklisting
CD
1. War Cry
2. Fooled By Your Guts
3. R.I.B. (Rest In Beer)
4. Riders Of The Doom
5. Hope Can't Die
6. No One Hit Wonder
7. Breakfast For Champions
8. Enemy Of Order
9. Clockwise To Decline
10. The Party Ain't Over 'Til We Say So'
DVD - Live @ Graspop Metal Meeting 2013
1. Zombie Attack (live)
2. The Morning After (live)
3. Not One Day Dead (live)
4. Stay Thirsty! (live)
5. Rules For Fools (live)
6. Rectifier (live)
7. Chemical Invasion (live)
8. (Empty) Tankard (live)
Label:

Nuclear Blast
Formats:

CD / DVD-MUSIC
Cat#:

727361322908