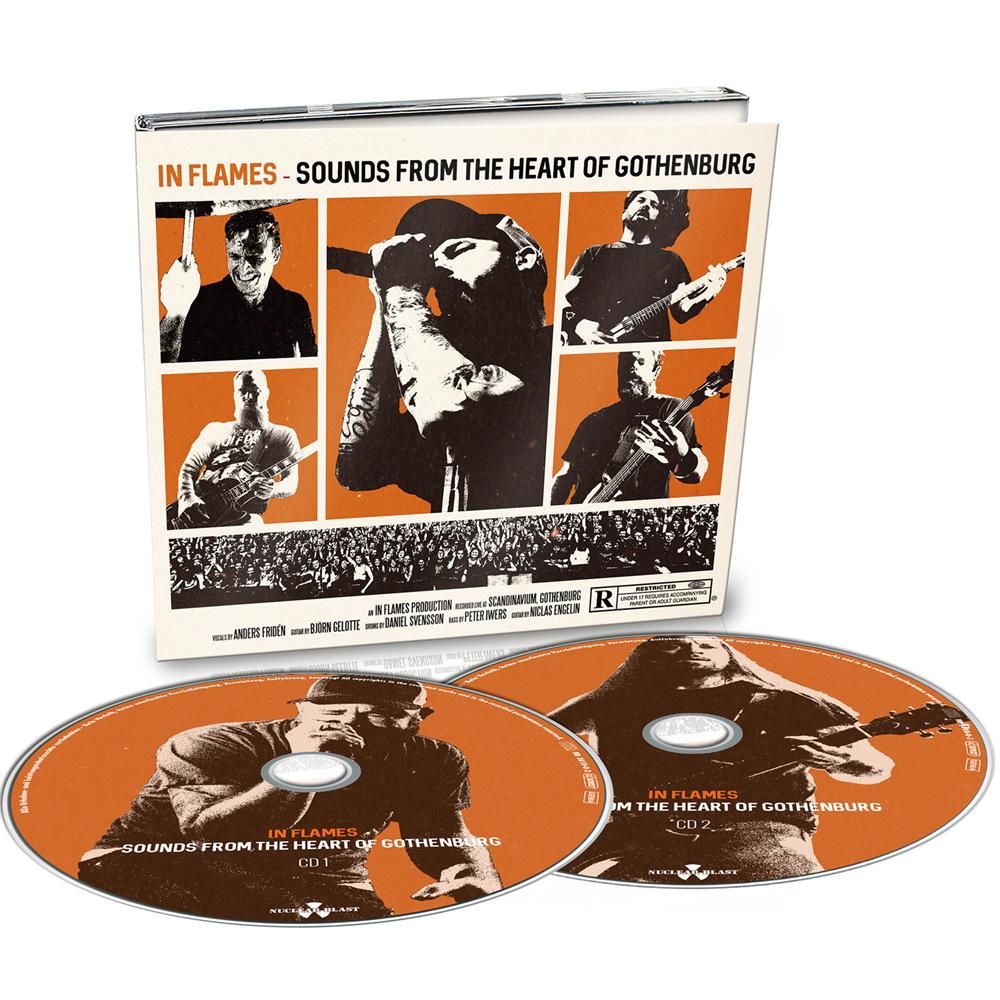 Artist:

In Flames
Sounds From The Heart Of Gothenburg: 2CD
They break the rules, reinvent themselves with every album and are considered to be Gothenburg's brightest metal stars - since the early 1990s In Flames have delivered a spectacular progression which has seen them transform their sound from classic melodic death metal to their current modern and unique style. The Swedes never cease to challenge their artistic boundaries, never looking back and taking every possible risk.
While their early work was dominated by growling vocals and intense speed, In Flames soon developed a progressive approach to their music, adding clean vocals to the choruses and creating unforgettable hymns such as 'The Quiet Place' or 'Trigger'.
Since the band are never standing still, it was time for them to build a monument in honour of their current sound - the result is the exquisite 'Sounds From The Heart Of Gothenburg', before the band move on to other shores with their next full length album. The explosive live performance was filmed in November 2014 in front of a sold out venue of 10,000 fans at the Scandinavium in the heart of their hometown Gothenburg, Sweden. The decision to preserve this hometown show for all eternity was an easy one for the band.
With a setlist of 20 songs and more than one and a half hours of live action, the Swedes tear through their entire band history. Newer songs 'Through Oblivion' and 'Rusted Nail' hammer down onto the heads of the fans, who know every lyric by heart. Of course the band also include old school classics such as 'Cloud Connected' or the mind-blowing finisher 'Take This Life'. The tracklist choice is never easy with 11 albums under their belt but the band know how to find a good mixture.
Once again, In Flames chose director Patric Ullaeus, who has been the creative force behind multiple music videos for the band, including their double DVD 'Used And Abused - In Live We Trust' and the clip for 'Take This Life' (which has now been watched over 15 million times on YouTube). After such a long and successful shared history the band didn't hesitate long in making a decision.
The result of this collaboration is once again a thrilling performance with raging pyro effects, a sea of glowing mobile phones in the dark during the melancholic 'With Eyes Wide Open', circle pits and flying crowdsurfers. During this incredible hometown show the bearded gentlemen don't allow their fans to breathe for more than a second and deliver a charming appetiser for their next album.
Twenty live tracks across the following formats digipack DVD (full concert footage) + 2CD set (audio); digipack Blu-ray + 2CD set; digipack 2CD; black, orange and white coloured triple vinyl.
In Plain View
Everything's Gone
Fear Is The Weakness
Trigger
Resin
Where The Dead Ships Dwell
With Eyes Wide Open
Paralyzed
Through Oblivion
Ropes
Delight And Angers
Cloud Connected
Only For The Weak
The Chosen Pessimist
The Quiet Place
When The World Explodes
Rusted Nail
The Mirror's Truth
Deliver Us
Take This Life
Label:

Nuclear Blast
Formats:

Double CD Album
Cat#:

727361381028