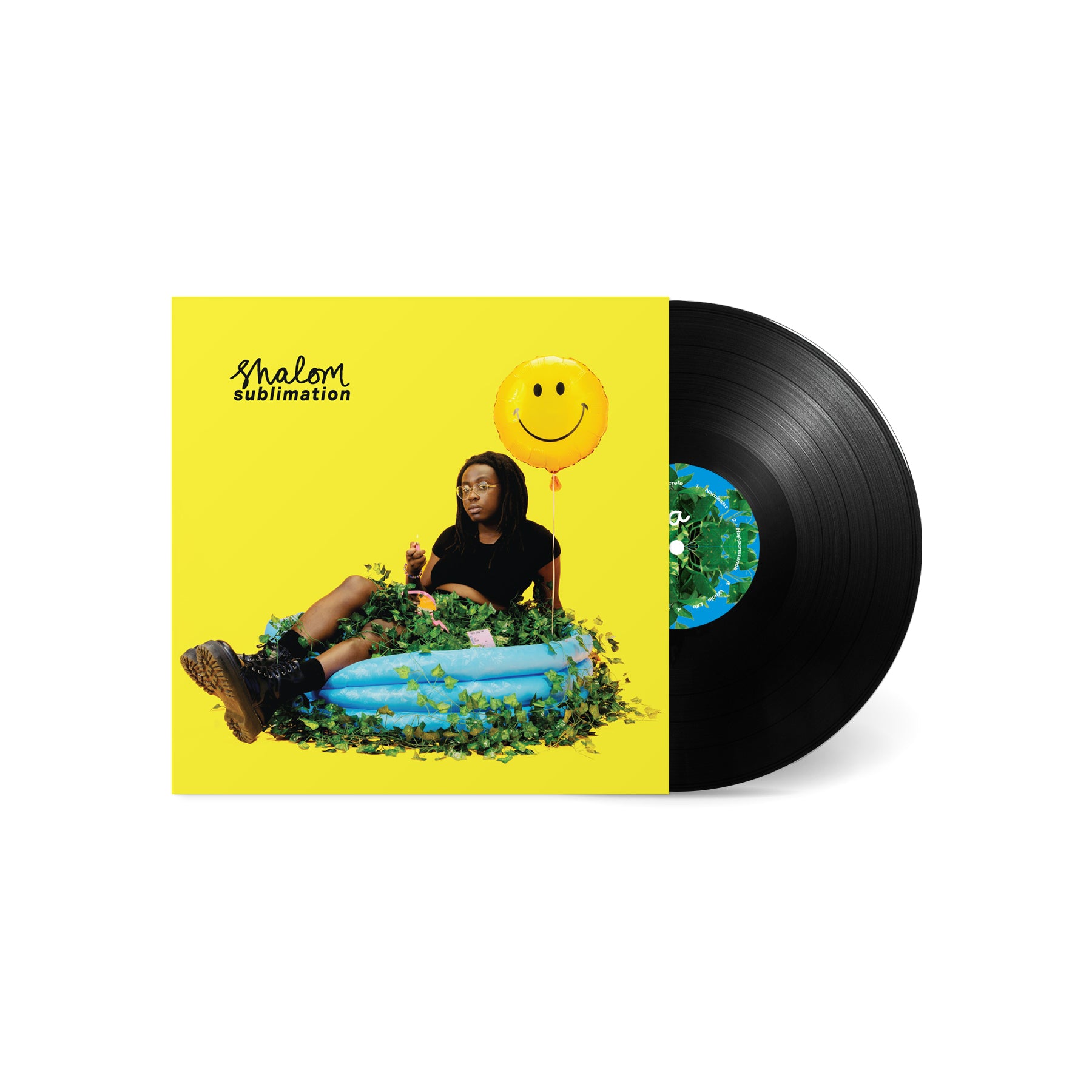 Artist:

Shalom
Sublimation: Vinyl LP
Shalom makes strikingly direct music with such emotional openness and clarity that each track on her debut album Sublimation, out March 10 via Saddle Creek, feels like a quiet revelation. While the Brooklyn-based, South Africa-raised artist writes fearlessly personal songs about moments in her life combining the storytelling of Lucy Dacus with the urgency of Indigo DeSouza, her honesty is so blunt it's inviting. Her lyrics clear whatever tension there is to make room for catharsis. These 13 tracks are a reflection of the many sides of herself with stories of heartbreak, feeling like an outsider, self-medicating and partying, and ultimately choosing love over fear. While she paints the edges of indie rock, Shalom along with her collaborator Ryan Hemsworth (Quarter-Life Crisis) team up for challenging and vivid arrangements that are danceable, driving, and also delicate.
Though Shalom has only been writing her own songs since the summer of 2020, she'd played bass in a band in the New Brunswick DIY scene. Following the dissolution of her band, she went through a period of mourning and writer's block. "It was some of the most painful, creative experiences I've ever had," she says. She wrote "Concrete," the first song she ever wrote and produced herself, as a way to process the loss of that creative outlet. It's a gorgeous track complete with yearning strings and Shalom singing, "We watched the future that we built just slip away / I still think of you almost every day / But there are good things in life no one can force you to take." Even though it was her debut song, there's depth and generosity tucked in each line.
She quietly released "Concrete" and a couple of other early home-recorded demos on a self-released EP titled the first snowstorm of the year in December 2020, which eventually caught the ear of producer Ryan Hemsworth. Impressed by her already-fully formed perspective and tight melodic sensibility, Hemsworth asked Shalom to write some more. "When I started writing I just kept having people believe in me and I started realizing that these were good songs," she says. "I received the validation that I needed to keep going. "They quickly began collaborating with Shalom writing on bass and Hemsworth emailing tracks back for her to tweak and find a home for her lyrics. Among the earliest songs of their partnership is the rocking "Soccer Mommy," which bluntly opens with, "I did a bunch of drugs before I turned 21 / Ate two tabs once a week for a whole month straight."
What started as a casual email collaboration quickly garnered enough material to make an album. Lead single "Happenstance" finds Shalom world sick. Over a muscular bassline, she sings, "I'm waiting for the day that I can finally walk away from all this bullshit." As the track settles into a mesmerizing groove, she sings over the chorus, "I'm just trying to erase myself whenever I get the chance / my need to evaporate and receive validation at the same time." It's in these contradictions where Shalom's writing thrives and is at the core of Sublimation. On opener "Narcissist," which is so anthemic it's meant to be played almost violently loud, the hook goes, "and maybe I'm a narcissist / I don't even know if I exist / I wish I'd evaporate." Shalom explains, "When I do something really embarrassing, the thing that I hear in my brain is literally "evaporate." Her songwriting gets at two fundamental but at-odds emotions, effortlessly speaking truth to something that's hard to articulate in real life: simultaneously wanting to be the center of attention and wanting to disappear completely.
As much as the album hones in on processing her trauma like on "Train Station," which deals with a sudden breakup, and "Nowadays" which deals with profound grief, there's a resiliency that stays constant throughout Sublimation. On the ebullient and funky "Did It To Myself," she opens herself up. She sings, "what hurts can be amazing / and now I'm back on my own, oh" over bouncy synths and a sparkling arrangement. Shalom explains, "Anytime you move forward, you have to remember the past: Most of my songs are about moving forward by dealing with a memory." Few songwriters not only fail to match Shalom's excavating introspection but also the grace with which she deals with these uncomfortable truths.
Many of the songs on Sublimation came together almost instantly with Shalom sitting down with her bass and coming out with a fully-written song in a couple of hours. Standout "Lighter," Shalom recalls, took 45 minutes. Arguably the poppiest song on the record with its breezy indie rock arrangement, she sings over shimmering guitars, "so done with being myself / I'd rather be anyone else / I'm tired of being a fighter." Despite the unflinching subject matter, Sublimation is not a difficult listen. "The record is an introduction to me as a songwriter," she says. "I think it shows my versatility, but really, it's me being really honest, earnest, and naked. You can see my bones on this record. I'm okay with it though, because I've got to get it out."
Label:

Saddle Creek
Formats:

Vinyl LP
Cat#:

LBJ352LP