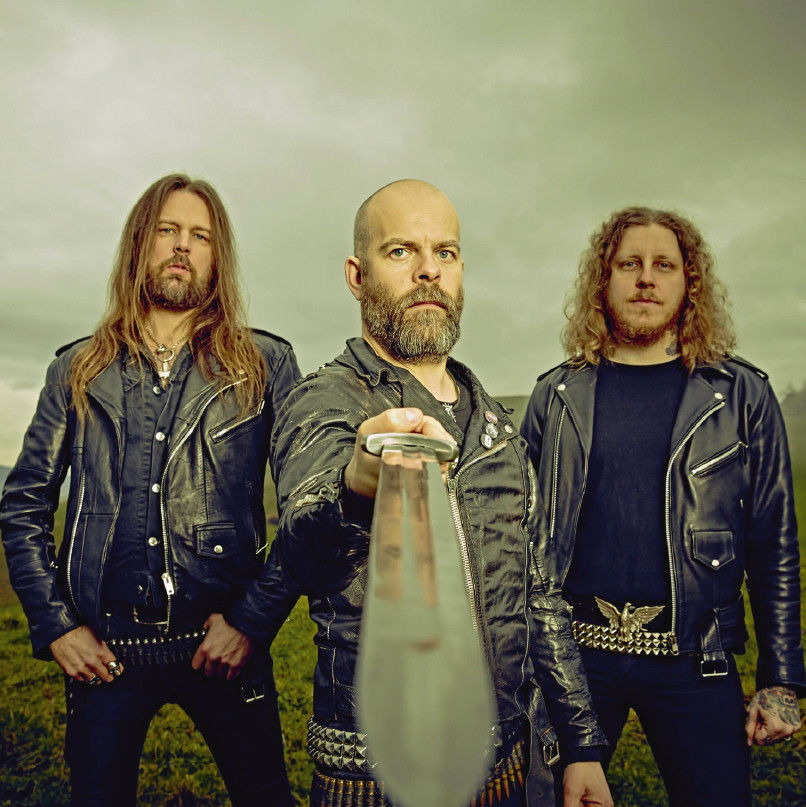 Artist:

Grand Magus
Sword Songs: CD
GRAND MAGUS was founded by JB Christofferson (vocals/guitars) and Mats "Fox" Skinner (bass) in 1996. Two years later, Fredrik "Trisse" Liefvendahl joined on drums and their first two demos were released. In November of 2001 the self-titled debut album – obviously inspired by the late creative period of bands such as BLACK SABBATH and DEEP PURPLE - was unleashed on the cult doom label Rise Above. 'Monument' (2003) and 'Wolf's Return' (2005) followed, garnering increasingly enthusiastic press reactions. On their fourth studio album, 'Iron Will' (2008) GRAND MAGUS redefined their style,whilst still acknowledging their own roots.
Now firmly recognised as Sweden's "riff gods" ,in 2012 they unleashed 'The Hunt', which saw them land a slot on the main stage at the Bloodstock Festival, as well as headline their biggest UK club tour to date.The Stockholm based trio re-entered Studio Sweetspot in Halmstad in early September 2013, with producer Nico Elgstrand and engineer Staffan Karlsson (Arch Enemy, Spiritual Beggars). The resultant album, 'Triumph And Power, certainly lived up to it's name. From the rainfall that heralds the opening of 'On Hooves Of Gold', to the fist-in-the-air punch of 'Steel Versus Steel' and the crushing glory of the title track, Grand Magus can certainly claim to have a "classic Metal" style all their own. A show-stealing set at Hammerfest 2014 followed as well as a triumphant UK support to Behemoth.
'Sword Songs', their 8th studio album, with stunning new cover artwork created by acclaimed artist Anthony Roberts, was produced again by Nico Elgstrand at Studio Supa in Stockholm, Sweden. A stunning set of 9 tracks of timeless riffs and meaty hooks, 'Sword Songs' manages to forge the most epic of songs with the simplest of tools. Mainman JB commented: "We put all of our sweat, blood and tears into this new album and I think that you can hear that. For me, "Sword Songs" is the best GRAND MAGUS album ever! The new songs are faster and more aggressive than on "Triumph And Power" - and we have also included some more extreme and harder stuff. I'm convinced that there are some future classics on the disc!"
As Metal Hammer succinctly put it, "these Swedish marauders are by now true bastions of true metal both on stage and on record".
Tracklisting
1. Freja's Choice
2. Varangian
3. Forged In Iron - Crowned In Steel
4. Born For Battle (Black Dog Of Brocéliande)
5. Master Of The Land
6. Last One To Fall
7. Frost And Fire
8. Hugr
9. Everyday There's A Battle To Fight
Label:

Nuclear Blast
Formats:

CD Album
Cat#:

727361366025