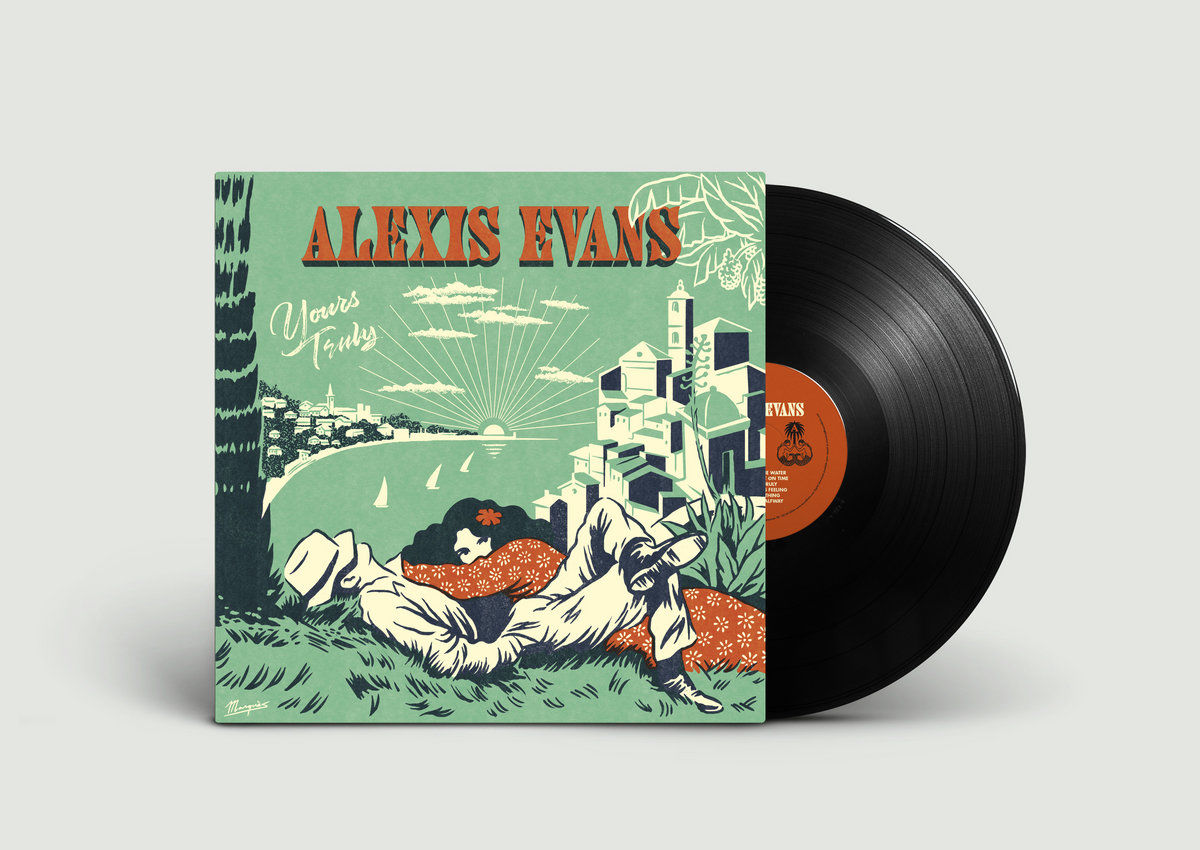 Artist:

Alexis Evans
Yours Truly: Vinyl LP
Record Kicks presents "Yours Truly", the new album by Bordeaux's "Soulboy", Mr. Alexis Evans.
Like fine Red Wine, "Soulboy" Alexis Evans gets better with Age. The best evidence of this is his brand new album "Yours Truly", set for release on February 3rd, 2023 on LP, CD and digital via Milan-based label Record Kicks. Produced and mixed by Louis-Marin Renaud (Lou Doillon, Theo Lawrence, Desmond Myers), "Yours Truly" is the third studio album by Bordeaux-based singer-songwriter Alexis Evans and sees the light 4 years after his previous LP "I've Come A Long Way", defined "Soul album of The Year" by Rolling Stone France. "Yours Truly" consists of 12 brilliantly soulful cuts that take direct inspiration from 60's & 70's classic soul music adding a sound that is firmly rooted in the new millennium.
Anticipated by the first single "Mr Right On Time", the album was recorded between Bordeaux and Nantes during 2021 and beginning of 2022. The idea behind the new album was to find a unique sound, mixing classic 60's & 70's soul music with more contemporary influences such as hip hop beats, jazz, reggae, and Caribbean sounds. To do that, Alexis paired up with producer Louis-Marin Renaud, known for his work with French-English singer, actress and model Lou Doillon and country-soul rising star Theo Lawrence, who took part in the arrangements and mixed the album.
"All instruments were recorded live, some titles were completely live and others got modified, cut, sampled, depending on the tunes in a kind of beatmaking way. It was a very fun and fulfilling project that will sound awesome on stage for sure," explains Alexis.
Lyrically, the album could be described as soulful everyday rhymes. "Love may be the number one subject in soul music and clearly has its place of honor in a few songs ("Close to me", "What is this feeling"), while other songs tend to deal with it in a more cynical but poetic way, for instance on "Mister right on time", in which beauty remains in simplicity," states Mr. Evans. He continues: "Another topic of the album is abandonment ("It matters to me", "The only apple", "Close to the water"). Whether it is the fear of being left behind or the sadness after a loss, this album still bears some traces of lockdown and I was aiming at giving another perspective on different matters, looking at them in a dreamlike way." The themes of the album are reflected in the cover artwork, made by Adrià F Marquès.
Alexis Evans, songwriter with a timeless style based in Bordeaux, France, found the love of music and learnt to play guitar thanks to his father, an English musician. His inspirations range from Marvin Gaye and Sam Cooke to David Bowie. At the age of 17 he debuted with his first project "Jumping to the Westside", with which he was awarded the "Cognac Blues Passion" prize and flew to the "International Blues Challenge" in Memphis, Tennessee, where he impressed the American audience even though he was still a teenager. Mr. Evanshas built a household name in the scene as the "enfant prodige of soul" starting with his first album, released in 2015, and consolidated his reputation with his second long play "I've Come a Long Way", released in 2019 on Record Kicks. Rolling Stone France described it as "The Soul album of the year", while Blues & Soul Magazine and BBC 6 defined him as "One of the most exciting additions to the international Soul Scene". Following the release of the album, Alexis toured in France and Europe extensively, stopped only in 2020 by the Pandemic. Thanks to the forced break, Alexis started to lay down the new album, and he's now ready to present the fruit of his hard work: "Yours Truly".
Label:

Record Kicks
Formats:

Vinyl LP
Cat#:

RKX87LP